What is Permanent Makeup?
As many women know, makeup can greatly improve the overall look of their face, but it can also be an enormous hassle. From waking up early to apply it to remembering to wash it off before you go to sleep, makeup can take a lot of time and energy out of your day. Permanent makeup was designed as a solution to this problem. It is a cosmetic procedure in which pigment is tattooed onto various areas of the face in order to mimic the appearance of makeup. In this way, patients are able to constantly look their absolute best without the need for makeup application or removal, or even the fear of it washing off from rain or sweat. Tamburrino Plastic Surgery & Med Spa is home to an experienced team who is passionate about providing quality care to each of our patients. Dr. Joseph F. Tamburrino is an expert in using permanent makeup in order to help individuals reach their aesthetic goals.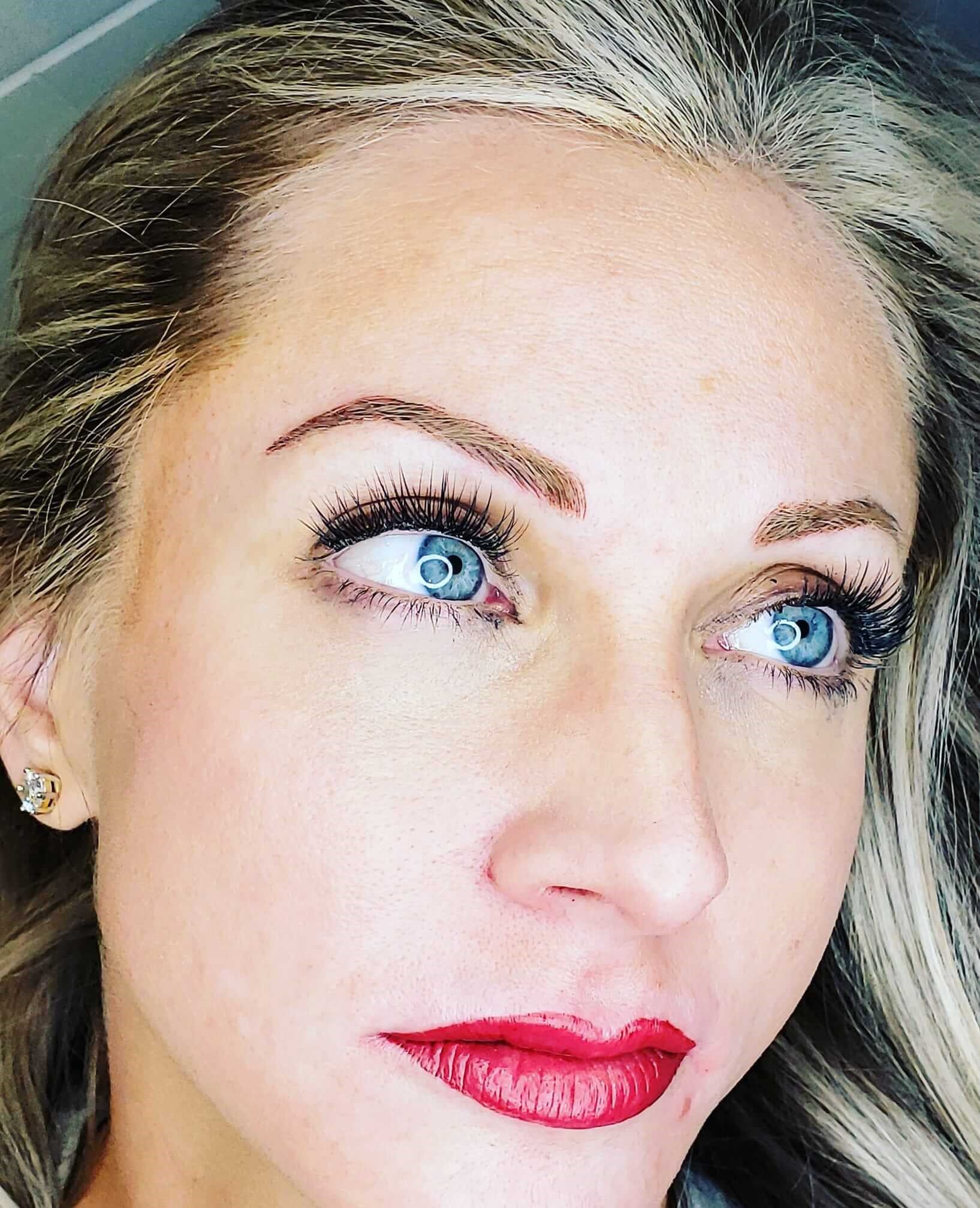 Reviews
"After consultations with many plastic surgeons, Dr. Tamburino was by far the most knowledgeable and detailed. I'm so thankful I found him and I would recommend him over and over. Not to mention his staff is so welcoming and incredibly helpful. If you are thinking about a surgery/cosmetics this is the GUY to go to. Can't say enough good things!"
- M.M. /
Google /
Feb 05, 2021
"I was very reluctant to get a face/neck lift. I thought about it for a few years and it was seeing myself on video calls day after day that sealed the deal for me. I had heard from a friend that Dr. Tamburrino was an excellent plastic surgeon and decided that I would suck up the drive from South Jersey to Doylestown based on the recommendation. I am so glad I did! My neck and face have been restored to a much more youthful look and amazingly there are no tell tale signs of surgery. I feel a whole lot better about myself and my family and friends are very complimentary (and I think a few of them are now considering surgery for themselves). Dr. Tamburrino is a thorough , knowledgeable and accomplished surgeon who I put complete trust in and I'm forever glad I did!"
- G.F. /
Healthgrades /
Jan 29, 2021
"The decision I made to put myself first and go see Dr. Tamburinno changed my life in the best way possible. I have never been more happy with myself and am grateful to him for being so knowledgeable and talented. From start to finish his staff is amazing and helpful beyond words ..... I have recommended him to many close friends and will continue to do so!! Lindsay Curtis"
- L.C. /
Google /
Jan 29, 2021
"Dr. Tamburrino changed my life. After two failed breast implant surgeries after a double mastectomy, Dr. Tamburrino created beautiful breast and nipples that look amazing. He gave me back my life. I owe him everything and recommend him to anyone who needs reconstruction. And on top of that he has an amazing personality, I received amazing care. "
- M.F. /
Healthgrades /
Jan 21, 2021
"Dr Tamburino is exactly who you hope for when faced with a difficult breast cancer surgery! He is a highly skilled surgeon, who is also caring and honest. He will tell you exactly what you need to know (though not always what you might want to hear) to get you through the long haul of surgery and reconstruction. I have had breast cancer with a bilateral mastectomy, chemo, radiation & expanders for reconstruction and have been going to Dr T for over a year. I feel now that he is the only plastic surgeon who was able to get me through my complicated journey. He always had my best interests at heart. I would recommend him to all my family and friends!"
- M.D. /
Google /
Jan 08, 2021
Previous
Next
Am I an Ideal Candidate for Permanent Makeup?
On top of simply saving time during your daily routine, permanent makeup is also useful for patients who have allergies or sensitivities to traditional cosmetics, as well as people who have conditions, such as arthritis or Parkinson's, that make it difficult to apply makeup. Traditionally, candidates for cosmetic tattooing have one or more of the following:
Thin eyebrows
Vision or mobility issues
Thin or light-colored lips
A cleft lip
Allergies to materials found in traditional cosmetics
How is Permanent Makeup Applied?
The very first step in receiving cosmetic tattooing for permanent makeup is to schedule a consultation with Dr. Tamburrino. During this time, he will discuss your precise concerns, needs, and goals in order to ensure you receive exactly what you want out of the procedure. On the day of your appointment, we will apply a layer of numbing cream in order to ensure you feel as comfortable as possible. During the actual procedure itself, he will select the appropriate tool according to the designated area of the face before beginning to tattoo the new pigment onto the skin. First, he will outline the designated area in order to find the ideal shape before filling it in with the agreed-upon color. All in all, this procedure usually only takes around an hour to perform, but it can differ from patient to patient. In terms of types of makeup, we offer options for eyebrows, eyeliner, and lips.
Permanent Eyebrows: Also known as microblading, cosmetic tattooing on the eyebrows can be used to fill in thinning or nonexistent eyebrows. Using an eyebrow pencil every single day can take a lot of time and effort in order to achieve a natural look. Cosmetic eyebrow tattoos, however, enable patients to have a consistently gorgeous appearance. Permanent eyebrows can greatly improve your overall appearance and self-confidence while also freeing up some extra time in your daily schedule.
Permanent Eyeliner: Eyeliner is an amazing method to provide definition to the natural shape of the eye. However, applying eyeliner requires people to pull on their eyelids and skin around the eyes. This stretches the skin, which will likely lead to the formation of wrinkles in the associated areas. Traditional eyeliner can also cause irritation in the eyes if you find yourself accidentally poking yourself in the eyes. Permanent eyeliner eliminates these issues in addition to saving your time and money.
Full Lips: Save time from constantly applying and re-applying lipstick throughout the day by undergoing cosmetic tattooing to color your full lips. Some patients choose to have their lips pigmented in a neutral shade in order to achieve a more natural look. On the other hand, other patients often opt to permanently apply their signature lip color to their lips for a look that is both gorgeous and smudge-proof.
As another option, some patients choose to have permanent lip liner applied. Over time, the edges around the lips can become less and less defined, making any lip product you apply nearly impossible to prevent from bleeding to the outside of the lips. Permanent lip liner can further define the lips so they look fuller and more even.
What to Expect After Permanent Makeup
At the conclusion of the procedure, patients are free to return to their usual daily schedule. However, we do recommend that they refrain from exercise for the first few days after the procedure. Before we send patients home, we always give them a clear aftercare plan in order to ensure their face heals in a fast and healthy manner. After about 7 – 10 days, most patients will be able to notice the final results of their permanent makeup.
In addition to the time and money saved by permanent makeup, it can also improve your state of mind. Additional time in your routine allows more time for sleep, hobbies, and relaxation, which often helps to reduce the stressful feeling of a busy schedule. At Tamburrino Plastic Surgery & Med Spa, we utilize state-of-the-art technologies and modern techniques in order to provide the best possible results for our patients in Doylestown, PA. Each patient will receive an in-depth consultation with Dr. Tamburrino where he will create a custom treatment plan to provide the results you've been dreaming about. Schedule a consultation today to take the first step of your makeover.