What is Permanent Makeup?
As many women know, makeup can greatly improve the overall look of their face, but it can also be an enormous hassle. From waking up early to apply it to remembering to wash it off before you go to sleep, makeup can take a lot of time and energy out of your day. Permanent makeup was designed as a solution to this problem. It is a cosmetic procedure in which pigment is tattooed onto various areas of the face in order to mimic the appearance of makeup. In this way, patients are able to constantly look their absolute best without the need for makeup application or removal, or even the fear of it washing off from rain or sweat. Tamburrino Plastic Surgery & Med Spa is home to an experienced team who is passionate about providing quality care to each of our patients. Dr. Joseph F. Tamburrino is an expert in using permanent makeup in order to help individuals reach their aesthetic goals.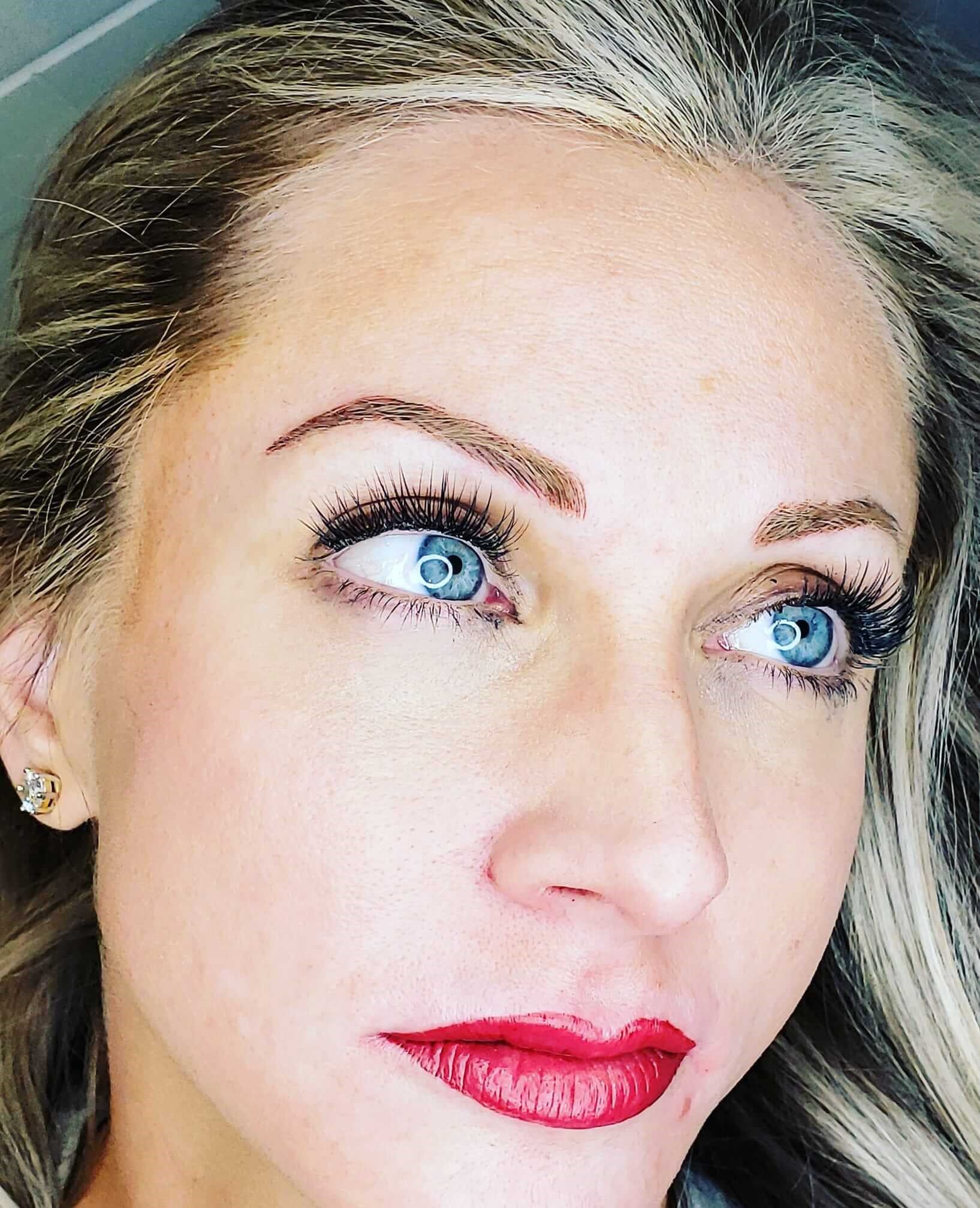 Reviews
"Dr. Tamburrino is outstanding! He's extremely talented in his field and I can't praise a doctor more.  I suffered a dog bite to the nose 3 years ago and he was called into the ER to repair it. His bedside manner was calming and kind as he worked on my nose. The results were great and I was left without permanent scarring.  Unfortunately, I didn't follow his advise and I kept the dog.  Six months ago the same Beagle attacked me again and the injury was worse.  My nose was hanging off and I had a bite above my nose between the eyes.  There were three bites in Al. This time. I again requested Dr. Tamburrino at the ER--the best thing I ever did because I knew what a good job he did the first time.  He took a lot of time to reconstruct my nose and stitch it back together.  Both of my nostrils were torn. I was a mess!  The results?  I look great.  I seriously l think my nose looks better than it did before any of the bites.  Dr. Tamburrino somehow put the nose back together so that the stitches were on the lower side of the nostril and the scars are not visible at all. The nostrils even look equal in size.  I've had a couple follow up appointments at his office and his staff are super friendly and accommodating as well!"
- K.M. /
Yelp /
Oct 11, 2021
"My experience and follow-ups with Dr. Tamburrino and his staff were extraordinary. I had a negative experience with prior surgeons, but when I saw him for a facelift revision, he set clear and reasonable expectations for what we could achieve together and showed an impressive understanding and expertise in assessing my past surgery. I worked with him to develop a game plan of other procedures that would achieve the results that would make me happy. I am grateful and can genuinely say that Prestige Institute treated me with care and understanding, and that Dr. Tamburrino is one of the best!"
- C.N. /
Google /
Oct 05, 2021
"Dr. Tamburrino is top notch and the best of the best. From my initial consult with him and his team, I felt completely comfortable and at ease. They take so much time with their patients to make sure you are 100% comfortable with any procedure you are having done. They care about their patients and want you to have the best outcome possible as if you were family. If you are looking for the best Plastic Surgeon out there, look no further then Dr. Tamburrino and his amazing team . You will not be disappointed!!"
- N.W. /
Google /
Aug 06, 2021
"I could not be happier with my experience with Dr. Tamburrino and his staff! They made the entire process of my procedure so smooth. Every question was answered and I was very comfortable with my decision to go with Prestige in comparison to my past experiences with multiple consultations at other practices. Dr. Tamburrino was very realistic and honest in addressing my concerns, and his extensive training, experience, certifications, and attention to detail proved that I was in the right place. The results of my procedure were absolutely amazing! Better than what I had imagined. I now look in the mirror every day and get so excited and proud of what I see! I can't thank Dr. Tamburrino, Anna, Kristen, and all of the staff at Prestige enough for how kind and accommodating they were! I'll never look anywhere else for any plastic surgery/med spa needs!"
- M.W. /
Google /
May 25, 2021
"The doctor took a lot of time to clearly explain my options for major surgery following a cancer-related procedure. He is very thorough and very human. I felt extremely comfortable in his care. This is all in the past now, but looking back I know I chose the right physician."
- H.G. /
Google /
Mar 22, 2021
Previous
Next
Am I an Ideal Candidate for Permanent Makeup?
On top of simply saving time during your daily routine, permanent makeup is also useful for patients who have allergies or sensitivities to traditional cosmetics, as well as people who have conditions, such as arthritis or Parkinson's, that make it difficult to apply makeup. Traditionally, candidates for cosmetic tattooing have one or more of the following:
Thin eyebrows
Vision or mobility issues
Thin or light-colored lips
A cleft lip
Allergies to materials found in traditional cosmetics
How is Permanent Makeup Applied?
The very first step in receiving cosmetic tattooing for permanent makeup is to schedule a consultation with Dr. Tamburrino. During this time, he will discuss your precise concerns, needs, and goals in order to ensure you receive exactly what you want out of the procedure. On the day of your appointment, we will apply a layer of numbing cream in order to ensure you feel as comfortable as possible. During the actual procedure itself, he will select the appropriate tool according to the designated area of the face before beginning to tattoo the new pigment onto the skin. First, he will outline the designated area in order to find the ideal shape before filling it in with the agreed-upon color. All in all, this procedure usually only takes around an hour to perform, but it can differ from patient to patient. In terms of types of makeup, we offer options for eyebrows, eyeliner, and lips.
Permanent Eyebrows: Also known as microblading, cosmetic tattooing on the eyebrows can be used to fill in thinning or nonexistent eyebrows. Using an eyebrow pencil every single day can take a lot of time and effort in order to achieve a natural look. Cosmetic eyebrow tattoos, however, enable patients to have a consistently gorgeous appearance. Permanent eyebrows can greatly improve your overall appearance and self-confidence while also freeing up some extra time in your daily schedule.
Permanent Eyeliner: Eyeliner is an amazing method to provide definition to the natural shape of the eye. However, applying eyeliner requires people to pull on their eyelids and skin around the eyes. This stretches the skin, which will likely lead to the formation of wrinkles in the associated areas. Traditional eyeliner can also cause irritation in the eyes if you find yourself accidentally poking yourself in the eyes. Permanent eyeliner eliminates these issues in addition to saving your time and money.
Full Lips: Save time from constantly applying and re-applying lipstick throughout the day by undergoing cosmetic tattooing to color your full lips. Some patients choose to have their lips pigmented in a neutral shade in order to achieve a more natural look. On the other hand, other patients often opt to permanently apply their signature lip color to their lips for a look that is both gorgeous and smudge-proof.
As another option, some patients choose to have permanent lip liner applied. Over time, the edges around the lips can become less and less defined, making any lip product you apply nearly impossible to prevent from bleeding to the outside of the lips. Permanent lip liner can further define the lips so they look fuller and more even.
What to Expect After Permanent Makeup
At the conclusion of the procedure, patients are free to return to their usual daily schedule. However, we do recommend that they refrain from exercise for the first few days after the procedure. Before we send patients home, we always give them a clear aftercare plan in order to ensure their face heals in a fast and healthy manner. After about 7 – 10 days, most patients will be able to notice the final results of their permanent makeup.
In addition to the time and money saved by permanent makeup, it can also improve your state of mind. Additional time in your routine allows more time for sleep, hobbies, and relaxation, which often helps to reduce the stressful feeling of a busy schedule. At Tamburrino Plastic Surgery & Med Spa, we utilize state-of-the-art technologies and modern techniques in order to provide the best possible results for our patients in Doylestown, PA. Each patient will receive an in-depth consultation with Dr. Tamburrino where he will create a custom treatment plan to provide the results you've been dreaming about. Schedule a consultation today to take the first step of your makeover.