What is Permanent Makeup?
As many women know, makeup can greatly improve the overall look of their face, but it can also be an enormous hassle. From waking up early to apply it to remembering to wash it off before you go to sleep, makeup can take a lot of time and energy out of your day. Permanent makeup was designed as a solution to this problem. It is a cosmetic procedure in which pigment is tattooed onto various areas of the face in order to mimic the appearance of makeup. In this way, patients are able to constantly look their absolute best without the need for makeup application or removal, or even the fear of it washing off from rain or sweat. Tamburrino Plastic Surgery & Med Spa is home to an experienced team who is passionate about providing quality care to each of our patients. Dr. Joseph F. Tamburrino is an expert in using permanent makeup in order to help individuals reach their aesthetic goals.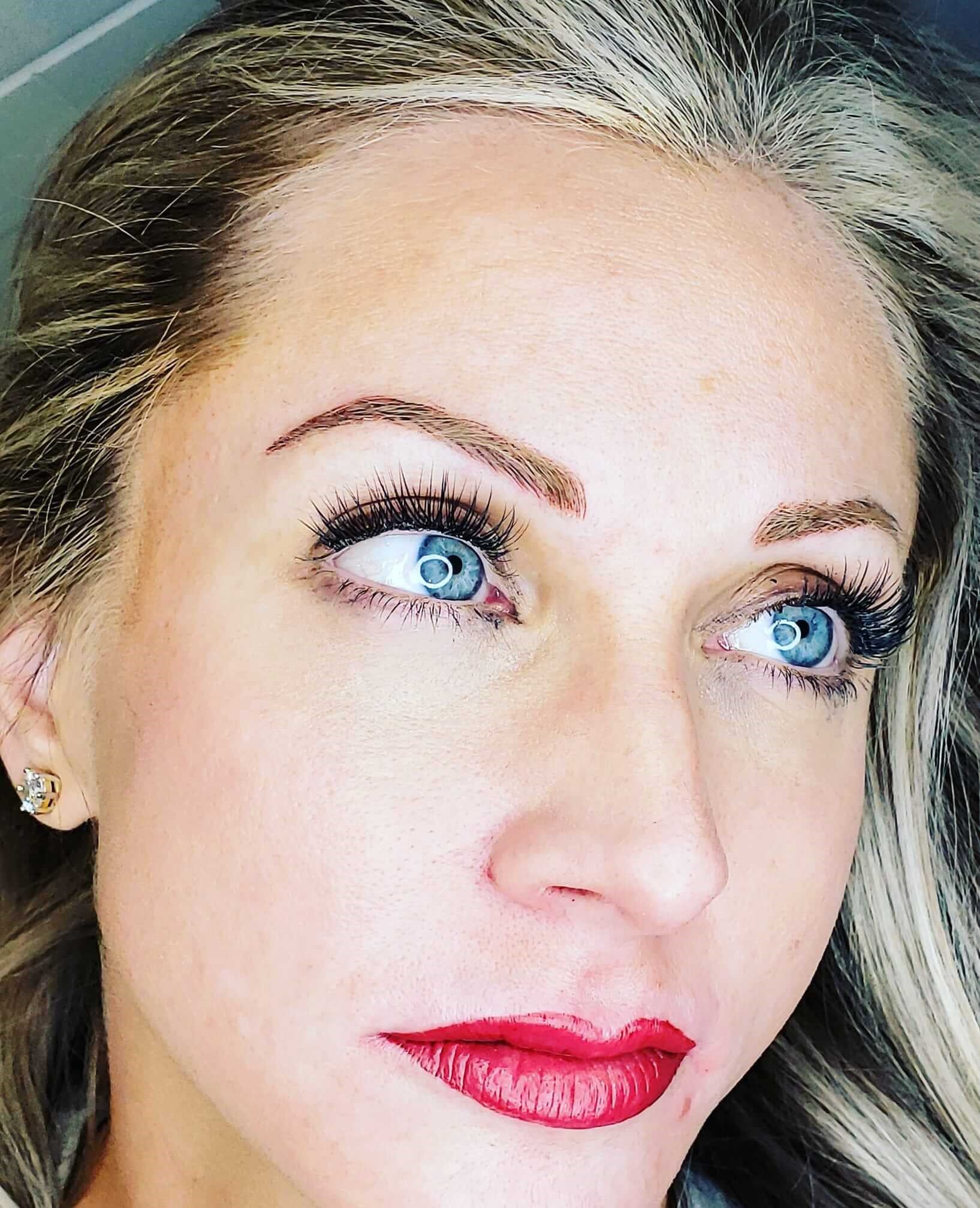 Putting on makeup every day can be monotonous, time-consuming, and expensive. No matter what parts of your routine feel essential, we have options at Tamburrino Plastic Surgery & Med Spa for integrating permanent makeup into your routine to provide you with a number of benefits, some of which include:
Customizable makeup options, including shades and density
Ability to look and feel like yourself without bothering with makeup
Save money in the long-term from repeat purchases of expensive makeup products
Quick, painless procedures performed in our comfortable office
Reviews
"Dr. Tamburrino is a master at his craft. He is a doctor that knows his branch of medicine very well. After doing a google search I called the office and spoke with Andrea, she was so understanding and comforting to me that it just made me want to spend the 100 dollars for a consultation. That was the best 100 dollars I have ever spent. From that point Dr. Tamburrino took time not only understanding my issue but understanding how I felt about it. He answered ever question I had and provide the reassurance I needed. What made me make a decision to have the surgery was what he said it is "life changing". I thought how many things in life can you do that actually well change it. He did a excellent job and his staff was very support as well as his wife Anna. Definitely without a doubt use him again getting any procedure that I might need. Thank you Andrea and all the staff and you Dr. Tamburrino."
- T.N. /
Google /
Mar 08, 2023
"Words cannot express how highly my family and I recommend Dr. Tamburrino from Tamburrino Plastic Surgery & Med Spa! For us, it's all about the experience, from booking the consultation to post-surgery care. My experience at Dr. Tamburrino's office has been nothing less than stellar. Honestly speaking, I don't think the staff would have it any other way. This team operates from a foundation of being a family-oriented office first. The team treats you like a human vs. a client. They get to know you and your family and wow you at every touch point you encounter on this journey. If you are searching for an experienced and brilliant plastic surgeon, look no further, you must have a conversation with Dr. Joe! I went in for a brachioplasty consultation and ended up getting lipo. The results (only two months later) are phenomenal and life-changing. It was the trust that was built during a transparent consultative conversation that gave me the confidence to choose Dr. Tamburrino. He has talked me through the expectations of every step leading into surgery and post-surgery, maintaining my confidence in the process. The after-care has been nothing less than exceptional. The reviews say it all. What else can I say? I am a customer for life! I will, without a doubt, consult with him anytime for any future services. Thank you - Dr. Joe, Andrea, Anna, Alexis, & Susan!"
- J.C. /
Google /
Mar 02, 2023
"I went to see Dr. Tamburrino for my gynecomastia and can't say enough good things about my experience. The staff was incredibly pleasant and made me feel comfortable even though I was very self conscious about my condition. I was awake during my surgery and although I was nervous at first, my nerves quickly went away and had a great time listening to music and conversing with everyone. My recovery was pretty quick and painless and everything healed really well to the point that you wouldn't be able to tell that I had surgery. Dr. Tamburrino made me feel confident in my skin again and can't thank him enough for it. I wish I had done it sooner and would go through the entire experience 100x over again."
- T.R. /
Google /
Apr 26, 2023
"Dr. Tamburrino and his staff immediately make you feel like family. The office is beautiful but you never feel like the pristine surroundings are anything but warm and inviting. I was lucky enough to have met Dr. Tamburrino 10 years ago when I was unlucky enough to need his expertise in breast reconstruction as part of my cancer plan. He always made me feel completely at ease and gave me confidence that I was in good hands. When my daughter decided she wanted to pursue breast reduction surgery, I tracked Dr.Tamburrino down and we made the hour 1/2 drive to his new office in Doylestown. (Yes , he's that good!) My daughter, who has severe social anxiety, was made to feel so welcome by the office staff and even more so by Dr. Tamburrino himself. We had seen another surgeon prior to this who was on our insurance plan, but neither one of us felt comfortable with the surgeon or the fact that she would not give us any degree of certainty as to what size my daughter could expect to be following the reduction. Dr. Tamburrino (who works without the constraints of insurance rules) made it clear that my daughter was going to be the size SHE wanted to be. He did an amazing job and was so supportive throughout the process . He was available any time of day for questions following the surgery and his lovely wife (who is a nurse in his practice) would call me with support that was more like a dear friend on the other end of the phone reassuring me and guiding me through post operative care. My daughter couldn't be happier with the results. We are forever grateful for the entire experience provided by Dr. Tamburrino and everyone in the office."
- C.A. /
Google /
Apr 11, 2023
"I am a breast cancer survivor and underwent bilateral mastectomies. Dr. Tamburrino performed my bilateral DIEP Flap reconstructions along with several revisions/follow-up procedures in part related to my deliberate weight loss. He is extremely well-educated and well-trained, with a depth and breadth of surgical experience and expertise and a more comprehensive foundation in general medical knowledge, pharmacology and biochemistry than most surgical specialists. He is, by temperament, thoughtful and cautious and always takes a "patient safety first" approach. He has a genuine respect and warmth for women (traits I relate to the positive influences in his life by his mother and his wife). His surgical skills are superb. He prepares patients for procedures with a thorough, yet plain-spoken, explanation of the details of the operation and recovery along with all potential benefits and risks and takes time for any and all questions. He remains as available to patients through the last office visit of their post-op recovery as he was for the initial consultation. His staff is as dedicated to patient safety and comfort as he is. I always knew that I was in the hands of a good man who is a superb surgeon who has my best interests at heart. I am thrilled with my results. Several medical professionals helped me survive breast cancer. Dr. Tamburrino is the member of my team that made me feel whole again. I am a very grateful to him and his staff."
- M.H. /
Google /
Apr 03, 2023
Previous
Next
Am I an Ideal Candidate for Permanent Makeup?
On top of simply saving time during your daily routine, permanent makeup is also useful for patients who have allergies or sensitivities to traditional cosmetics, as well as people who have conditions, such as arthritis or Parkinson's, that make it difficult to apply makeup. Traditionally, candidates for cosmetic tattooing have one or more of the following:
Thin eyebrows
Vision or mobility issues
Thin or light-colored lips
A cleft lip
Allergies to materials found in traditional cosmetics
How is Permanent Makeup Applied?
The very first step in receiving cosmetic tattooing for permanent makeup is to schedule a consultation with Dr. Tamburrino. During this time, he will discuss your precise concerns, needs, and goals in order to ensure you receive exactly what you want out of the procedure. On the day of your appointment, we will apply a layer of numbing cream in order to ensure you feel as comfortable as possible. During the actual procedure itself, he will select the appropriate tool according to the designated area of the face before beginning to tattoo the new pigment onto the skin. First, he will outline the designated area in order to find the ideal shape before filling it in with the agreed-upon color. All in all, this procedure usually only takes around an hour to perform, but it can differ from patient to patient. In terms of types of makeup, we offer options for eyebrows, eyeliner, and lips.
Permanent Eyebrows: Also known as microblading, cosmetic tattooing on the eyebrows can be used to fill in thinning or nonexistent eyebrows. Using an eyebrow pencil every single day can take a lot of time and effort in order to achieve a natural look. Cosmetic eyebrow tattoos, however, enable patients to have a consistently gorgeous appearance. Permanent eyebrows can greatly improve your overall appearance and self-confidence while also freeing up some extra time in your daily schedule.
Permanent Eyeliner: Eyeliner is an amazing method to provide definition to the natural shape of the eye. However, applying eyeliner requires people to pull on their eyelids and skin around the eyes. This stretches the skin, which will likely lead to the formation of wrinkles in the associated areas. Traditional eyeliner can also cause irritation in the eyes if you find yourself accidentally poking yourself in the eyes. Permanent eyeliner eliminates these issues in addition to saving your time and money.
Full Lips: Save time from constantly applying and re-applying lipstick throughout the day by undergoing cosmetic tattooing to color your full lips. Some patients choose to have their lips pigmented in a neutral shade in order to achieve a more natural look. On the other hand, other patients often opt to permanently apply their signature lip color to their lips for a look that is both gorgeous and smudge-proof.
As another option, some patients choose to have permanent lip liner applied. Over time, the edges around the lips can become less and less defined, making any lip product you apply nearly impossible to prevent from bleeding to the outside of the lips. Permanent lip liner can further define the lips so they look fuller and more even.
What to Expect After Permanent Makeup
At the conclusion of the procedure, patients are free to return to their usual daily schedule. However, we do recommend that they refrain from exercise for the first few days after the procedure. Before we send patients home, we always give them a clear aftercare plan in order to ensure their face heals in a fast and healthy manner. After about 7 – 10 days, most patients will be able to notice the final results of their permanent makeup.
Does getting permanent makeup hurt?
While some people may find the application of permanent makeup uncomfortable, most don't find it painful. Before our team at Tamburrino Plastic Surgery & Med Spa begins the procedure, a numbing cream can be applied to the area to keep you comfortable. After the the process is finished, some mild redness, swelling, and/or tenderness is common, but it typically goes away quickly. We will give you aftercare instructions at our Doylestown, PA office to help prompt healing and ensure optimal results.
Is it actually permanent?
While permanent makeup can have long-lasting results, it is technically semi-permanent. After about 1 – 3 years, some of the color may fade. Other pigmentation may last longer, however. Individuals may choose to have touch-up procedures done to maintain their ideal results.
Is the permanent makeup procedure safe?
Yes, absolutely. Our team follows all recommended guidelines to maintain a sterilized treatment room and will only use new, one-use needles for your permanent makeup application. If you have more specific questions about our safety standards, we will be happy to answer them during your consultation.
In addition to the time and money saved by permanent makeup, it can also improve your state of mind. Additional time in your routine allows more time for sleep, hobbies, and relaxation, which often helps to reduce the stressful feeling of a busy schedule. At Tamburrino Plastic Surgery & Med Spa, we utilize state-of-the-art technologies and modern techniques in order to provide the best possible results for our patients in Doylestown, PA. Each patient will receive an in-depth consultation with Dr. Tamburrino where he will create a custom treatment plan to provide the results you've been dreaming about. Schedule a consultation today to take the first step of your makeover.
Related Offers