What is Nipple Tattooing?
Many breast cancer survivors can often feel self-conscious about the appearance of their breasts after undergoing a mastectomy where it may be necessary to remove the tissue of the nipple or areola. For this reason, many patients opt to follow up on their procedure with a breast reconstruction procedure, usually including nipple tattooing. Also known as 3D areola reconstruction, this procedure is designed to improve the aesthetics of the nipples and areolas by adding natural tone, pigment, and authentic shadows to the underlying skin. Tamburrino Plastic Surgery & Med Spa in Doylestown, PA is proud to offer this corrective procedure for patients who may have lost their nipple tissue during the process of a mastectomy. Dr. Joseph F. Tamburrino is highly experienced in performing nipple tattooing, allowing our patients to put their mind at ease in his capable hands.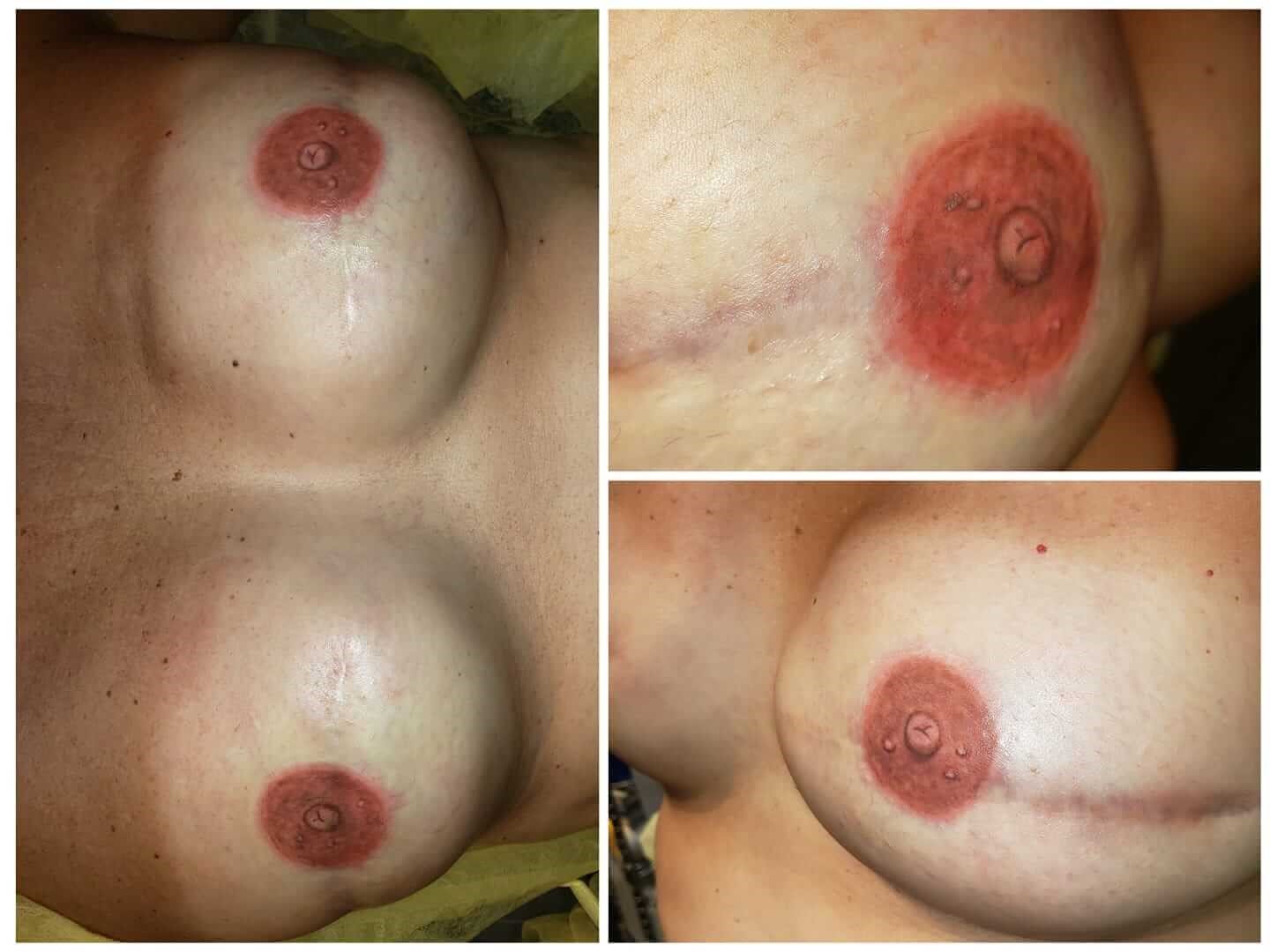 Reviews
"Dr. Tamburrino and his staff are truly amazing! He's not only the best surgeon in the game, but also cares about his patients. He's our family surgeon for many things and have had nothing but amazing results! Highly recommend this practice. 👌🏼"
- W.J. /
Google /
Dec 02, 2022
"I've been getting Dysport on and off for over 10 years. Dr. Tamburrino had been doing my injectables consistently for 5 years. He treats my wrinkles and neckbands with Dysport. He has kept me youthful and very natural looking by replacing lost volume (fat loss from aging) with filler in my face. It took a lot of trust in my doctor for me to get filler in my face. I am so thankful for his knowledge and skills. I would only go to a Board Certified Plastic Surgeon like him for my filler and Dysport! He takes his time to explain everything in detail which makes you feel comfortable and ready for treatment. I recommend JoeTMD to all my family and friends. Everyone is extremely happy with their results! I also see Susan for my skin care. Susan is the best Medical Aesthetician! I've been seeing her for almost 2 years. She has changed my skin for the best! With her advanced treatments like Dermaplanes, laser hair removal, Hydrafacial, Vi-Peels, and great medical grade skin care products that work, my skin feels 10 years younger. Overall with injectables and skincare Tamburrino Plastic Surgery and Med Spa can be your one stop shop for youthful skin!"
- A.M. /
Google /
Nov 30, 2022
"If you have been considering laser hair removal of any kind, now is the time to book your appointment with my girl Susan Wright and let her use her magic wand to erase all those unwanted hairs!! Her new Venus Velocity hair removal laser is effective, efficient and painless! So don't wait another second, and book your appointment today!"
- D.G. /
Google /
Nov 28, 2022
"The staff could not have been more kind and helpful. My teenage daughter had a medical issue that needed immediate attention. After calling 5 plastic surgeons on a Friday afternoon, Dr. Tamburrino was the only one who said he would see her immediately. He could not have been nicer and treated my daughter with such care. She is doing great and I am so appreciative! It's a very warm and welcoming environment. Thank you again for taking care of my daughter."
- R.S. /
Google /
Nov 19, 2022
"Highly recommend Dr. Tamburrino and Susan. I have received dysport and laser hair removal with incredible results. I couldn't be more happy with either of these treatments! And to top it all off, they have the best office staff compared to any physician's office I have ever been to. They are all real, genuine people who care about you. They treat you like family and you know you are in the very best of hands. Thank you to Dr. Tamburrino, Anna, Susan, and the entire front desk staff for everything! You guys are the best!"
- H.S. /
Google /
Nov 19, 2022
Previous
Next
Am I an Ideal Candidate for Nipple Tattooing?
Traditionally, men and women who choose to undergo this procedure have lost one or both nipples due to a breast cancer-related mastectomy. Your body's ability to heal from the mastectomy will determine how long you must wait until we can perform the 3D areola restoration. However, in most cases, we recommend patients wait at least three months. Many of our patients find this procedure to be preferable to nipple reconstruction surgery due to its less invasive nature and nonexistent recovery time.
How is Nipple Tattooing Performed?
The procedure itself will be performed in one of our private treatment rooms at Tamburrino Plastic Surgery & Med Spa. The process is much the same as any normal tattoo, though with the nipple being a highly sensitive area, we can offer anesthetic to make the patient experience more comfortable. We can use various techniques in order to use 3D shading to create the illusion of a nipple, fill in a reconstructed nipple/areola with realistic flesh tones, or perform touch-ups on patients who have already undergone the procedure but feel that the tattoo has faded over time. In general, nipple tattooing is a fast procedure that usually only lasts around 15 minutes per nipple.
What to Expect After Nipple Tattooing
Aftercare for nipple tattooing is generally not any different from a traditional tattoo anywhere else on your body. At the conclusion of the procedure, the treatment area will be sterilized and covered in order to keep it protected. Before you leave, our staff will walk you through how to keep the area clean and free of infection in the days and weeks to come. It is entirely expected for the tattoo to emit small amounts of blood and/or ink in the days following the procedure. For this reason, we ask that patients use and consistently replace gauze pads on the affected area. This will eventually scab, and it is important for patients to avoid picking or prodding in order to ensure the area heals properly. Once the scab falls off naturally, the final results of the procedure should be noticeable. In some cases, patients may require multiple sessions until they've reached their desired nipple color.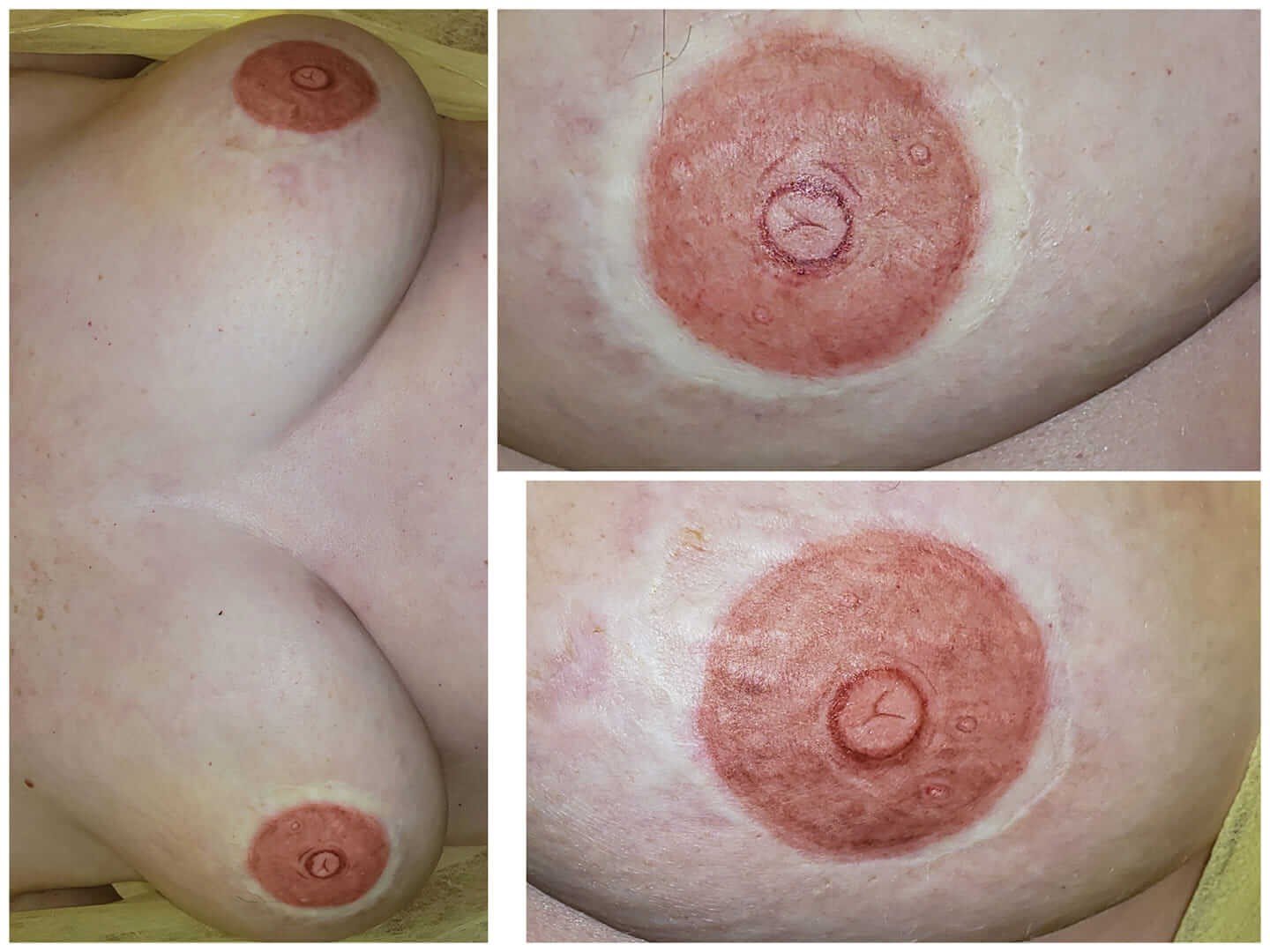 Don't let a mastectomy stop you from feeling great about your body. Nipple tattooing is a quick and easy way to enhance the breasts after the loss of the nipples and/or areola. If you've been considering this procedure, Dr. Tamburrino would love to meet with you to discuss the specific details of your body. Schedule a consultation at Tamburrino Plastic Surgery & Med Spa in Doylestown, PA today.
Related Post