What is Nipple Tattooing?
Many breast cancer survivors can often feel self-conscious about the appearance of their breasts after undergoing a mastectomy where it may be necessary to remove the tissue of the nipple or areola. For this reason, many patients opt to follow up on their procedure with a breast reconstruction procedure, usually including nipple tattooing. Also known as 3D areola reconstruction, this procedure is designed to improve the aesthetics of the nipples and areolas by adding natural tone, pigment, and authentic shadows to the underlying skin. Tamburrino Plastic Surgery & Med Spa in Doylestown, PA is proud to offer this corrective procedure for patients who may have lost their nipple tissue during the process of a mastectomy. Dr. Joseph F. Tamburrino is highly experienced in performing nipple tattooing, allowing our patients to put their mind at ease in his capable hands.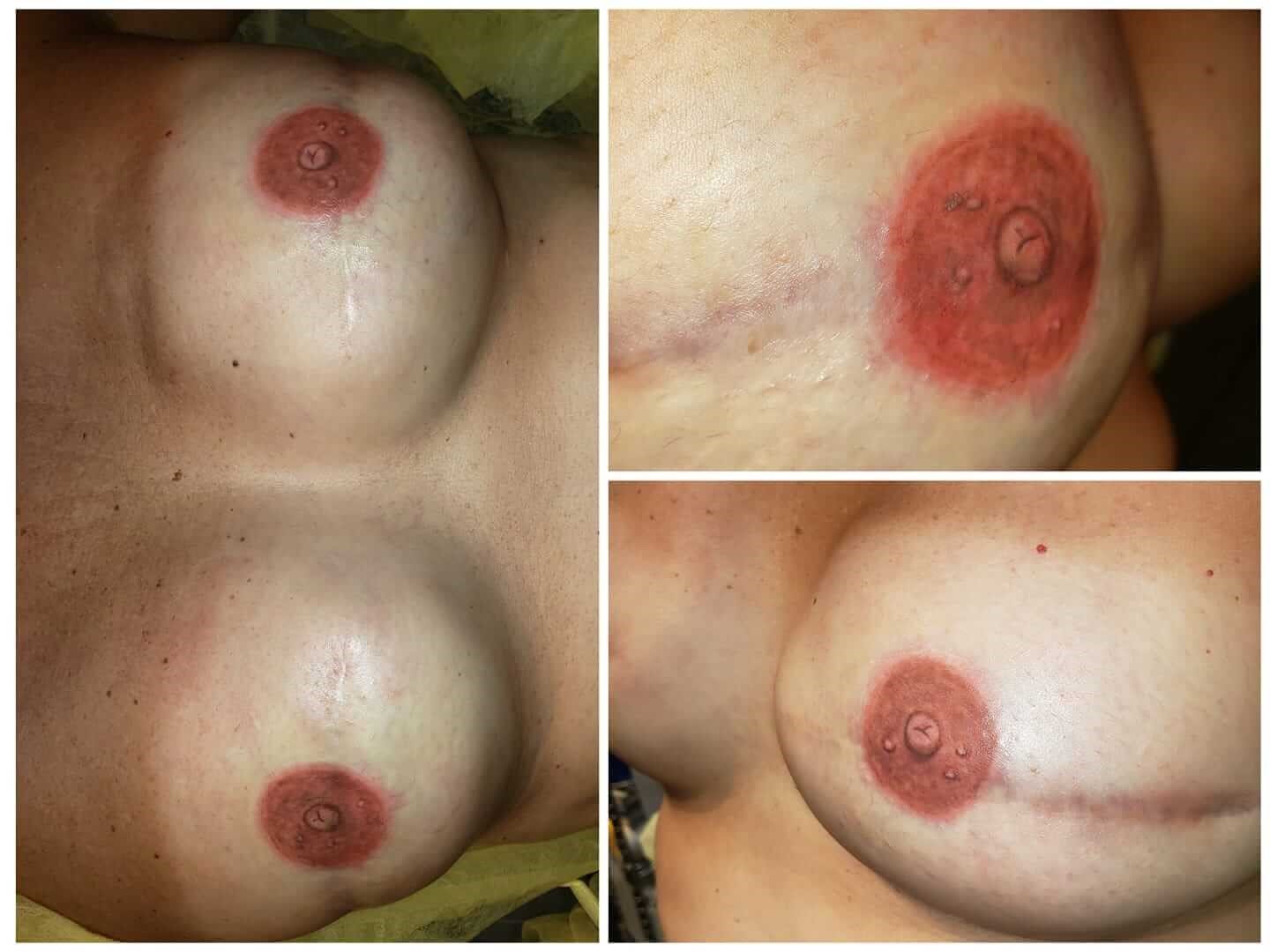 Reviews
"Dr. Tamburrino is a master at his craft. He is a doctor that knows his branch of medicine very well. After doing a google search I called the office and spoke with Andrea, she was so understanding and comforting to me that it just made me want to spend the 100 dollars for a consultation. That was the best 100 dollars I have ever spent. From that point Dr. Tamburrino took time not only understanding my issue but understanding how I felt about it. He answered ever question I had and provide the reassurance I needed. What made me make a decision to have the surgery was what he said it is "life changing". I thought how many things in life can you do that actually well change it. He did a excellent job and his staff was very support as well as his wife Anna. Definitely without a doubt use him again getting any procedure that I might need. Thank you Andrea and all the staff and you Dr. Tamburrino."
- T.N. /
Google /
Mar 08, 2023
"Words cannot express how highly my family and I recommend Dr. Tamburrino from Tamburrino Plastic Surgery & Med Spa! For us, it's all about the experience, from booking the consultation to post-surgery care. My experience at Dr. Tamburrino's office has been nothing less than stellar. Honestly speaking, I don't think the staff would have it any other way. This team operates from a foundation of being a family-oriented office first. The team treats you like a human vs. a client. They get to know you and your family and wow you at every touch point you encounter on this journey. If you are searching for an experienced and brilliant plastic surgeon, look no further, you must have a conversation with Dr. Joe! I went in for a brachioplasty consultation and ended up getting lipo. The results (only two months later) are phenomenal and life-changing. It was the trust that was built during a transparent consultative conversation that gave me the confidence to choose Dr. Tamburrino. He has talked me through the expectations of every step leading into surgery and post-surgery, maintaining my confidence in the process. The after-care has been nothing less than exceptional. The reviews say it all. What else can I say? I am a customer for life! I will, without a doubt, consult with him anytime for any future services. Thank you - Dr. Joe, Andrea, Anna, Alexis, & Susan!"
- J.C. /
Google /
Mar 02, 2023
"I went to see Dr. Tamburrino for my gynecomastia and can't say enough good things about my experience. The staff was incredibly pleasant and made me feel comfortable even though I was very self conscious about my condition. I was awake during my surgery and although I was nervous at first, my nerves quickly went away and had a great time listening to music and conversing with everyone. My recovery was pretty quick and painless and everything healed really well to the point that you wouldn't be able to tell that I had surgery. Dr. Tamburrino made me feel confident in my skin again and can't thank him enough for it. I wish I had done it sooner and would go through the entire experience 100x over again."
- T.R. /
Google /
Apr 26, 2023
"Dr. Tamburrino and his staff immediately make you feel like family. The office is beautiful but you never feel like the pristine surroundings are anything but warm and inviting. I was lucky enough to have met Dr. Tamburrino 10 years ago when I was unlucky enough to need his expertise in breast reconstruction as part of my cancer plan. He always made me feel completely at ease and gave me confidence that I was in good hands. When my daughter decided she wanted to pursue breast reduction surgery, I tracked Dr.Tamburrino down and we made the hour 1/2 drive to his new office in Doylestown. (Yes , he's that good!) My daughter, who has severe social anxiety, was made to feel so welcome by the office staff and even more so by Dr. Tamburrino himself. We had seen another surgeon prior to this who was on our insurance plan, but neither one of us felt comfortable with the surgeon or the fact that she would not give us any degree of certainty as to what size my daughter could expect to be following the reduction. Dr. Tamburrino (who works without the constraints of insurance rules) made it clear that my daughter was going to be the size SHE wanted to be. He did an amazing job and was so supportive throughout the process . He was available any time of day for questions following the surgery and his lovely wife (who is a nurse in his practice) would call me with support that was more like a dear friend on the other end of the phone reassuring me and guiding me through post operative care. My daughter couldn't be happier with the results. We are forever grateful for the entire experience provided by Dr. Tamburrino and everyone in the office."
- C.A. /
Google /
Apr 11, 2023
"I am a breast cancer survivor and underwent bilateral mastectomies. Dr. Tamburrino performed my bilateral DIEP Flap reconstructions along with several revisions/follow-up procedures in part related to my deliberate weight loss. He is extremely well-educated and well-trained, with a depth and breadth of surgical experience and expertise and a more comprehensive foundation in general medical knowledge, pharmacology and biochemistry than most surgical specialists. He is, by temperament, thoughtful and cautious and always takes a "patient safety first" approach. He has a genuine respect and warmth for women (traits I relate to the positive influences in his life by his mother and his wife). His surgical skills are superb. He prepares patients for procedures with a thorough, yet plain-spoken, explanation of the details of the operation and recovery along with all potential benefits and risks and takes time for any and all questions. He remains as available to patients through the last office visit of their post-op recovery as he was for the initial consultation. His staff is as dedicated to patient safety and comfort as he is. I always knew that I was in the hands of a good man who is a superb surgeon who has my best interests at heart. I am thrilled with my results. Several medical professionals helped me survive breast cancer. Dr. Tamburrino is the member of my team that made me feel whole again. I am a very grateful to him and his staff."
- M.H. /
Google /
Apr 03, 2023
Previous
Next
Am I an Ideal Candidate for Nipple Tattooing?
Traditionally, men and women who choose to undergo this procedure have lost one or both nipples due to a breast cancer-related mastectomy. Your body's ability to heal from the mastectomy will determine how long you must wait until we can perform the 3D areola restoration. However, in most cases, we recommend patients wait at least three months. Many of our patients find this procedure to be preferable to nipple reconstruction surgery due to its less invasive nature and nonexistent recovery time.
How is Nipple Tattooing Performed?
The procedure itself will be performed in one of our private treatment rooms at Tamburrino Plastic Surgery & Med Spa. The process is much the same as any normal tattoo, though with the nipple being a highly sensitive area, we can offer anesthetic to make the patient experience more comfortable. We can use various techniques in order to use 3D shading to create the illusion of a nipple, fill in a reconstructed nipple/areola with realistic flesh tones, or perform touch-ups on patients who have already undergone the procedure but feel that the tattoo has faded over time. In general, nipple tattooing is a fast procedure that usually only lasts around 15 minutes per nipple.
What to Expect After Nipple Tattooing
Aftercare for nipple tattooing is generally not any different from a traditional tattoo anywhere else on your body. At the conclusion of the procedure, the treatment area will be sterilized and covered in order to keep it protected. Before you leave, our staff will walk you through how to keep the area clean and free of infection in the days and weeks to come. It is entirely expected for the tattoo to emit small amounts of blood and/or ink in the days following the procedure. For this reason, we ask that patients use and consistently replace gauze pads on the affected area. This will eventually scab, and it is important for patients to avoid picking or prodding in order to ensure the area heals properly. Once the scab falls off naturally, the final results of the procedure should be noticeable. In some cases, patients may require multiple sessions until they've reached their desired nipple color.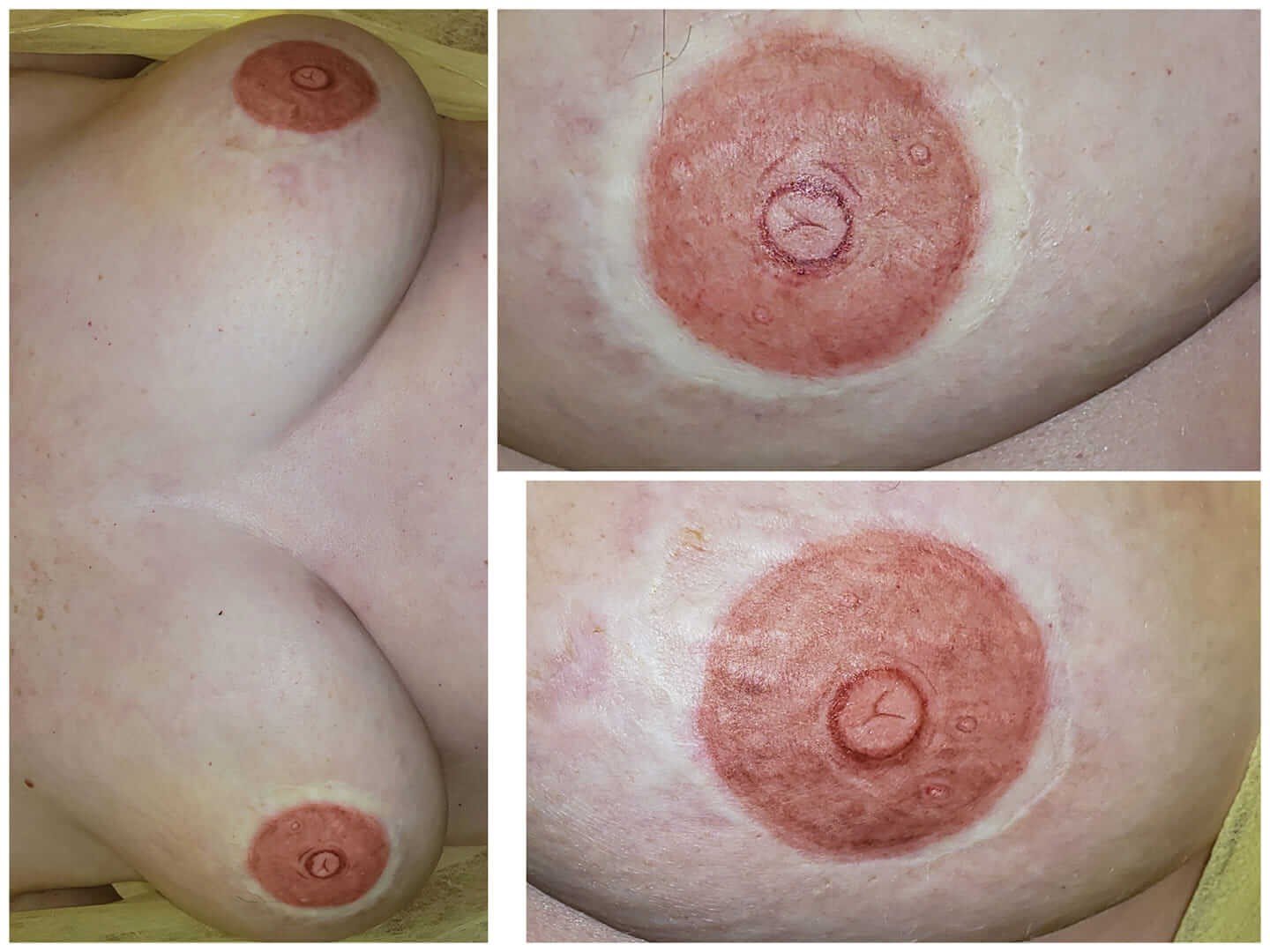 Don't let a mastectomy stop you from feeling great about your body. Nipple tattooing is a quick and easy way to enhance the breasts after the loss of the nipples and/or areola. If you've been considering this procedure, Dr. Tamburrino would love to meet with you to discuss the specific details of your body. Schedule a consultation at Tamburrino Plastic Surgery & Med Spa in Doylestown, PA today.
How long after mastectomy do I have to wait to get nipple tattooing?
It is generally recommended to wait at least three months after a mastectomy before considering nipple tattooing. This waiting period allows for adequate healing of the surgical site and ensures a stable and well-settled foundation for the tattooing procedure. It also gives you time to discuss the timing of nipple tattooing with your healthcare provider, cosmetic provider, and other medical care team members to determine the best approach for your specific situation.
Is nipple tattooing after mastectomy permanent?
Nipple tattooing after mastectomy is considered a permanent cosmetic procedure. However, it's important to understand that over time, the color of the tattoo may fade slightly. The longevity of the tattoo can vary depending on factors like skin type, sun exposure, and lifestyle. While the tattoo may not remain as vibrant as it was initially, it can last for many years. Some individuals may choose to have touch-up sessions as needed to maintain the desired appearance.
Can men get nipple tattooing?
Yes, nipple tattooing is not limited to any specific gender. Both men and women who have undergone mastectomy procedures or have other cosmetic or medical reasons may choose to have nipple tattooing. The goal of nipple tattooing is to create a natural and aesthetically pleasing appearance, regardless of gender. If you are considering nipple tattooing as a part of your post-mastectomy or cosmetic journey, ywe are happy to discuss your options and preferences in greater detail.
Related Post
Related Offers