What is Nipple Tattooing?
Many breast cancer survivors can often feel self-conscious about the appearance of their breasts after undergoing a mastectomy where it may be necessary to remove the tissue of the nipple or areola. For this reason, many patients opt to follow up on their procedure with a breast reconstruction procedure, usually including nipple tattooing. Also known as 3D areola reconstruction, this procedure is designed to improve the aesthetics of the nipples and areolas by adding natural tone, pigment, and authentic shadows to the underlying skin. Tamburrino Plastic Surgery & Med Spa in Doylestown, PA is proud to offer this corrective procedure for patients who may have lost their nipple tissue during the process of a mastectomy. Dr. Joseph F. Tamburrino is highly experienced in performing nipple tattooing, allowing our patients to put their mind at ease in his capable hands.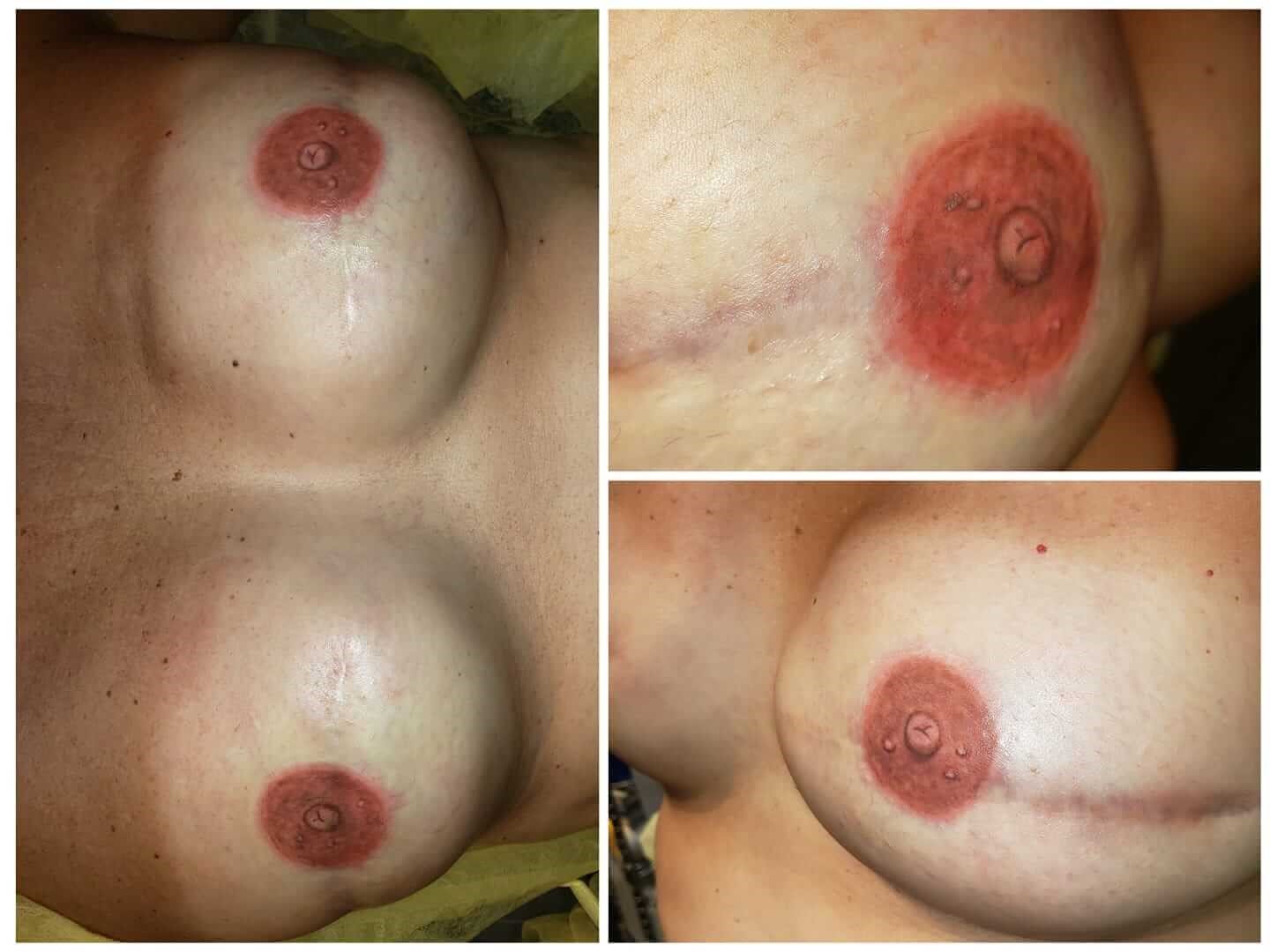 Reviews
"After consultations with many plastic surgeons, Dr. Tamburino was by far the most knowledgeable and detailed. I'm so thankful I found him and I would recommend him over and over. Not to mention his staff is so welcoming and incredibly helpful. If you are thinking about a surgery/cosmetics this is the GUY to go to. Can't say enough good things!"
- M.M. /
Google /
Feb 05, 2021
"I was very reluctant to get a face/neck lift. I thought about it for a few years and it was seeing myself on video calls day after day that sealed the deal for me. I had heard from a friend that Dr. Tamburrino was an excellent plastic surgeon and decided that I would suck up the drive from South Jersey to Doylestown based on the recommendation. I am so glad I did! My neck and face have been restored to a much more youthful look and amazingly there are no tell tale signs of surgery. I feel a whole lot better about myself and my family and friends are very complimentary (and I think a few of them are now considering surgery for themselves). Dr. Tamburrino is a thorough , knowledgeable and accomplished surgeon who I put complete trust in and I'm forever glad I did!"
- G.F. /
Healthgrades /
Jan 29, 2021
"The decision I made to put myself first and go see Dr. Tamburinno changed my life in the best way possible. I have never been more happy with myself and am grateful to him for being so knowledgeable and talented. From start to finish his staff is amazing and helpful beyond words ..... I have recommended him to many close friends and will continue to do so!! Lindsay Curtis"
- L.C. /
Google /
Jan 29, 2021
"Dr. Tamburrino changed my life. After two failed breast implant surgeries after a double mastectomy, Dr. Tamburrino created beautiful breast and nipples that look amazing. He gave me back my life. I owe him everything and recommend him to anyone who needs reconstruction. And on top of that he has an amazing personality, I received amazing care. "
- M.F. /
Healthgrades /
Jan 21, 2021
"Dr Tamburino is exactly who you hope for when faced with a difficult breast cancer surgery! He is a highly skilled surgeon, who is also caring and honest. He will tell you exactly what you need to know (though not always what you might want to hear) to get you through the long haul of surgery and reconstruction. I have had breast cancer with a bilateral mastectomy, chemo, radiation & expanders for reconstruction and have been going to Dr T for over a year. I feel now that he is the only plastic surgeon who was able to get me through my complicated journey. He always had my best interests at heart. I would recommend him to all my family and friends!"
- M.D. /
Google /
Jan 08, 2021
Previous
Next
Am I an Ideal Candidate for Nipple Tattooing?
Traditionally, men and women who choose to undergo this procedure have lost one or both nipples due to a breast cancer-related mastectomy. Your body's ability to heal from the mastectomy will determine how long you must wait until we can perform the 3D areola restoration. However, in most cases, we recommend patients wait at least three months. Many of our patients find this procedure to be preferable to nipple reconstruction surgery due to its less invasive nature and nonexistent recovery time.
How is Nipple Tattooing Performed?
The procedure itself will be performed in one of our private treatment rooms at Tamburrino Plastic Surgery & Med Spa. The process is much the same as any normal tattoo, though with the nipple being a highly sensitive area, we can offer anesthetic to make the patient experience more comfortable. We can use various techniques in order to use 3D shading to create the illusion of a nipple, fill in a reconstructed nipple/areola with realistic flesh tones, or perform touch-ups on patients who have already undergone the procedure but feel that the tattoo has faded over time. In general, nipple tattooing is a fast procedure that usually only lasts around 15 minutes per nipple.
What to Expect After Nipple Tattooing
Aftercare for nipple tattooing is generally not any different from a traditional tattoo anywhere else on your body. At the conclusion of the procedure, the treatment area will be sterilized and covered in order to keep it protected. Before you leave, our staff will walk you through how to keep the area clean and free of infection in the days and weeks to come. It is entirely expected for the tattoo to emit small amounts of blood and/or ink in the days following the procedure. For this reason, we ask that patients use and consistently replace gauze pads on the affected area. This will eventually scab, and it is important for patients to avoid picking or prodding in order to ensure the area heals properly. Once the scab falls off naturally, the final results of the procedure should be noticeable. In some cases, patients may require multiple sessions until they've reached their desired nipple color.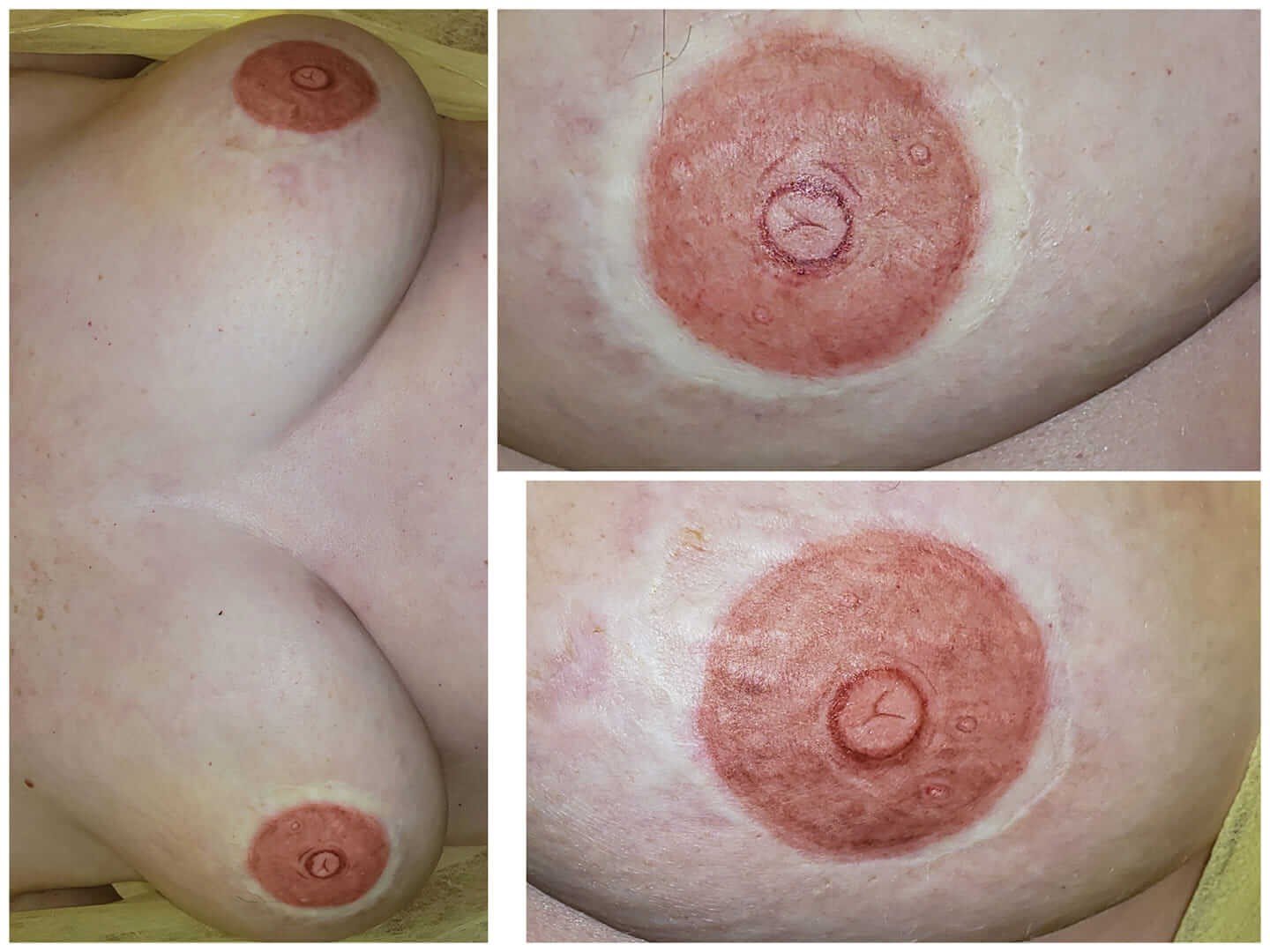 Don't let a mastectomy stop you from feeling great about your body. Nipple tattooing is a quick and easy way to enhance the breasts after the loss of the nipples and/or areola. If you've been considering this procedure, Dr. Tamburrino would love to meet with you to discuss the specific details of your body. Schedule a consultation at Tamburrino Plastic Surgery & Med Spa in Doylestown, PA today.
Related Post